NMGC Fall Board Meeting
& Leadership Program
October 27 & 28
Las Vegas, New Mexico
October 13: Deadline for early registration and special hotel rate
See Members Only for Official Call and Registration
---
Fall Board Meetings
District I: October 10
Albuquerque
District II: October 20
Los Alamos
District III: October 13
Las Vegas
District IV: October 6
Silver City
District V: October 4
Ruidoso
---
Designs from District II's Flower Show,
"The Pulse of Life"
June 17-18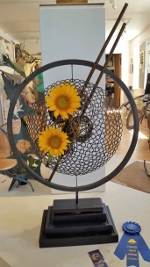 Click here to view photos in Google photo gallery.

Photos by Pat Copple,
Floral Designers Garden Club
---
NMGC Convention Photos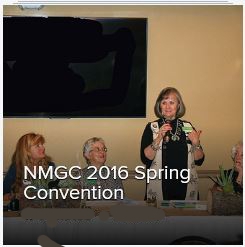 Click here to view photos in Flickr photo gallery or click here to display as a Flickr slideshow.
---
Awards: 2015

Click here for photographs of NMGC's top award winners, award-winning designs and award-winning photography. Awards were presented during the 2016 Spring Convention.
---
KOAT Interview with NMGC President Suzy Andrego

Click here to see KOAT's Eric Green interview Suzy Andrego about prepping your garden for winter.
---
Create a Butterfly Garden...


...In seven easy steps! Share these bookmarks with club and community members. Suzy Andrego passed out these lovely (laminated) bookmarks at the Fall Board Meeting.
---
Congratulations to Summit Garden Club

for being awarded a set of AMES tools. Click here to read Summit's involvement, and click here to learn more about NGC's partnership with The AMES Companies, Inc. and the application process.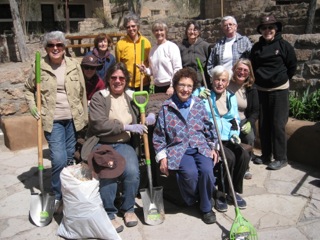 Members of Summit Garden Club maintaining the gardens at Bandelier National Monument. Click on photo to enlarge.